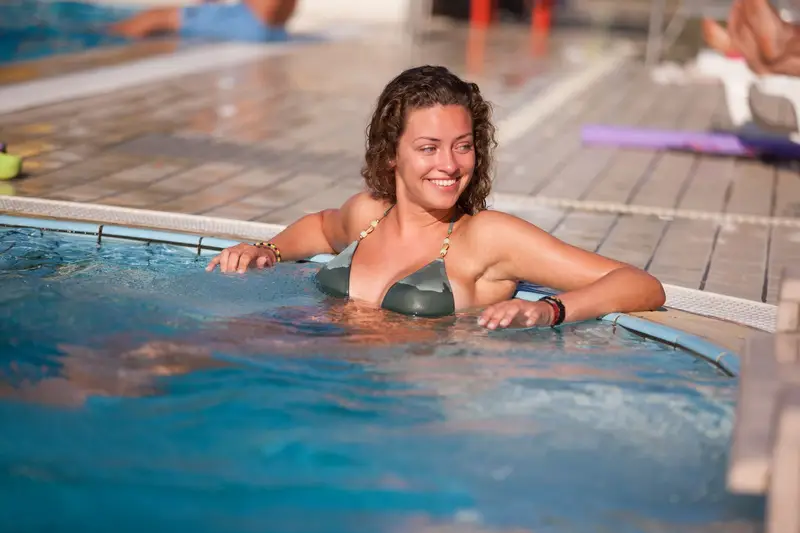 Pool and beach
Wellness corners - open air
A holiday in the Albatros apartments is a real full immersion in relaxation and tranquility. A comfortable swimming pool awaits you, equipped with umbrellas and sunbeds to enjoy the Lignano sun and for further moments of leisure, the Holiday Center has a private beach, where the guests of the apartments can take advantage of the discount reserved for them.
The swimming pool of the Antares Residences
Dive into the pool and enjoy moments of refreshment from the summer heat. At the Residence Antares a beautiful swimming pool awaits you, surrounded by sun loungers and umbrellas to spend moments in tranquility. A baby-tub with slide is designed to welcome younger guests.
Our golden beach in Lignano
The long golden beach of Lignano can be reached just a few meters away. Guests of the Residences Antares and Villas can book umbrellas, sunbeds and gazebos using the discount voucher delivered upon arrival.
Information and timetables
The swimming pool of the Antares Residence is open at the following times:
- low season: * from 10.00 to 19.00 continued
- high season: * from 10.00 to 13.00 and from 15.00 to 19.00
*The timetable may vary
On the beach, changing rooms are available for our guests.
Immerse yourself in the world of Albatros
© 2023 LOS NIDOS S.R.L.
VAT 00402300305
Share Capital € 200.000,00 i.v.
QNT Hospitality